Tutustu seuraavan sukupolven työtovereihin
Tehosta henkilöstösi tuottavuutta
Kuvittele, että sinulla on käytössäsi kaikki tarvittavat resurssit, joilla tuotanto pysyy käynnissä ja pystyy vastaamaan kysyntään. Etsitkö lisävahvistuksia tiimiisi tuottavuuden parantamiseksi? Tutustu uuden sukupolven työtovereihin.
Helposti asennettavat yhteistyörobotit ovat nopea ja kustannustehokas ratkaisu. Ne voivat lisätä tuotannon joustavuutta, laatua ja nopeutta ja auttaa yritystäsi vastaamaan nopeasti muuttuviin markkinaolosuhteisiin.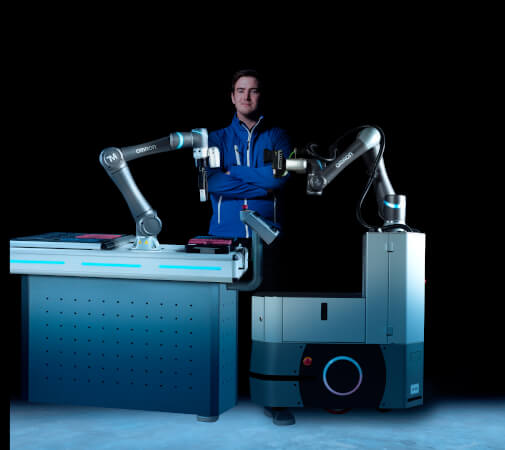 Helposti alkuun
Jotta automatisoinnin aiheuttama käyttökatkos olisi mahdollisimman lyhyt, tarvitset robotin, joka aloittaa työt nopeasti ja työskentelee taukoamatta. Yhteistyörobottimme toimitetaan heti käyttövalmiina.
Pienet kokonaiskulut
OMRONin yhteistyörobotit tarjoavat parhaan tuoton sijoitukselle. Ne voivat mukautua joustavasti uusiin tuotantoprosesseihin ja -asetteluihin muutamassa minuutissa.
Joustavuus
Yhteistyörobottimme on suunniteltu siten, että ne on helppo määrittää eri tehtäviin ja käyttötarkoituksiin. Tämän ansiosta tuotannosta voidaan tehdä juuri niin joustava kuin tarvitaan.
Harmonista yhteistyötä
Yhteistyörobotit oppivat nopeasti ja voivat tehostaa tuotantoa. Voit muutamassa minuutissa opettaa niille, miten ne voivat jakaa tehtäviä ihmisten kanssa ja mukautua joustavasti uusiin vaatimuksiin. Hyödynnä integroituja turvallisuusominaisuuksia, jotka mahdollistavat työskentelyn ihmisten kanssa ja parantavat tuottavuutta erilaisissa toistuvissa tehtävissä.
Katso video
Omron's factory in Shanghai is creating an environment where people and robots work together, to meet challenges in manufacturing today, such as shortage in manpower and overall equipment effectiveness (OEE). In this video, you can see how Omron TM collaborative robots work safely side-by-side with people.

04:46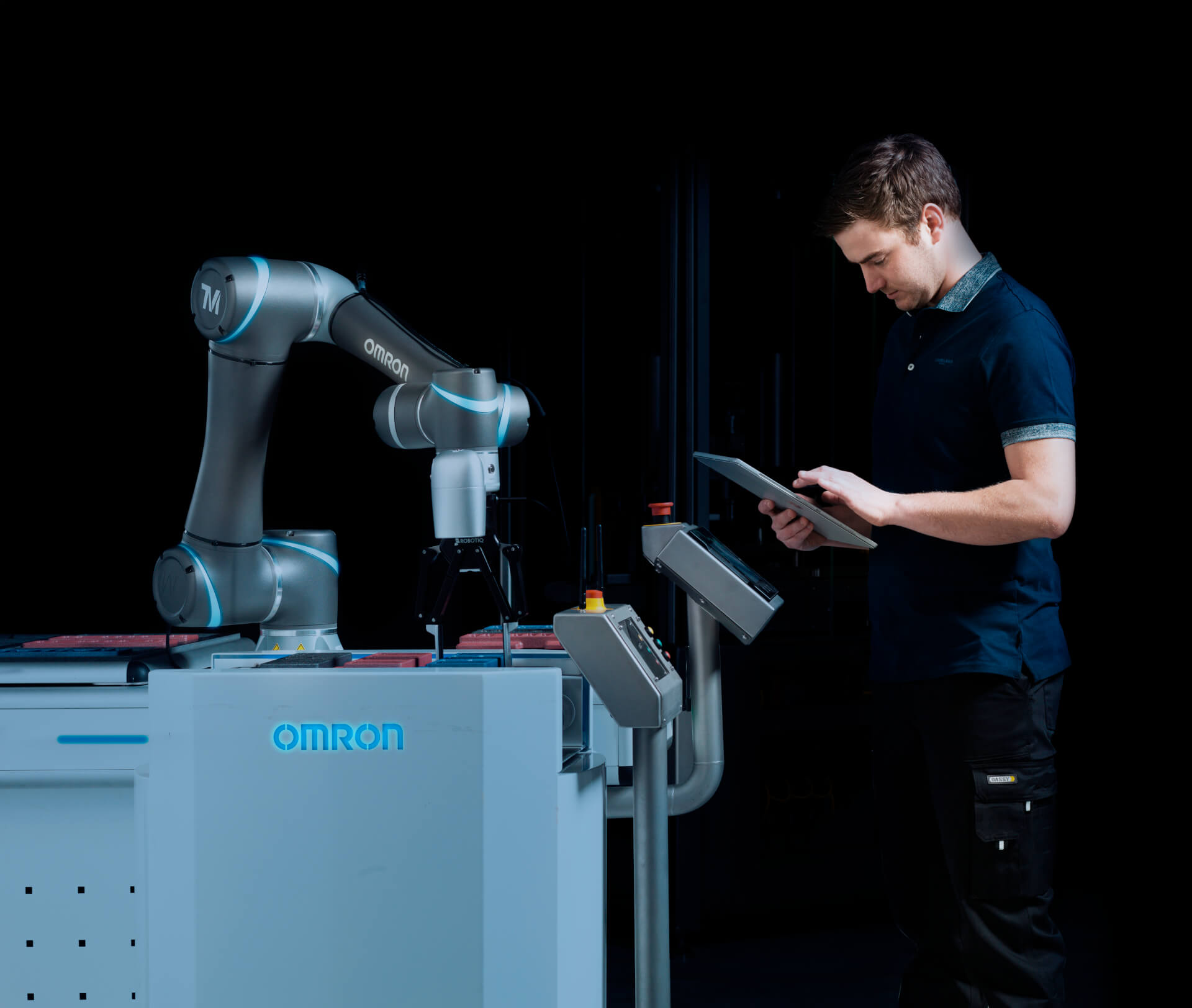 Sovellukset
Työskentelitpä auto-, elintarvike-, pakkaus-, muovi-, konetyökalu- tai lääketeollisuudessa, OMRON TM -yhteistyörobotti mukautuu lähes mihin tahansa käyttökohteeseen.
Haluatko kuulla lisää yhteistyöroboteistamme?
Turvaa yhteistoimintasovelluksista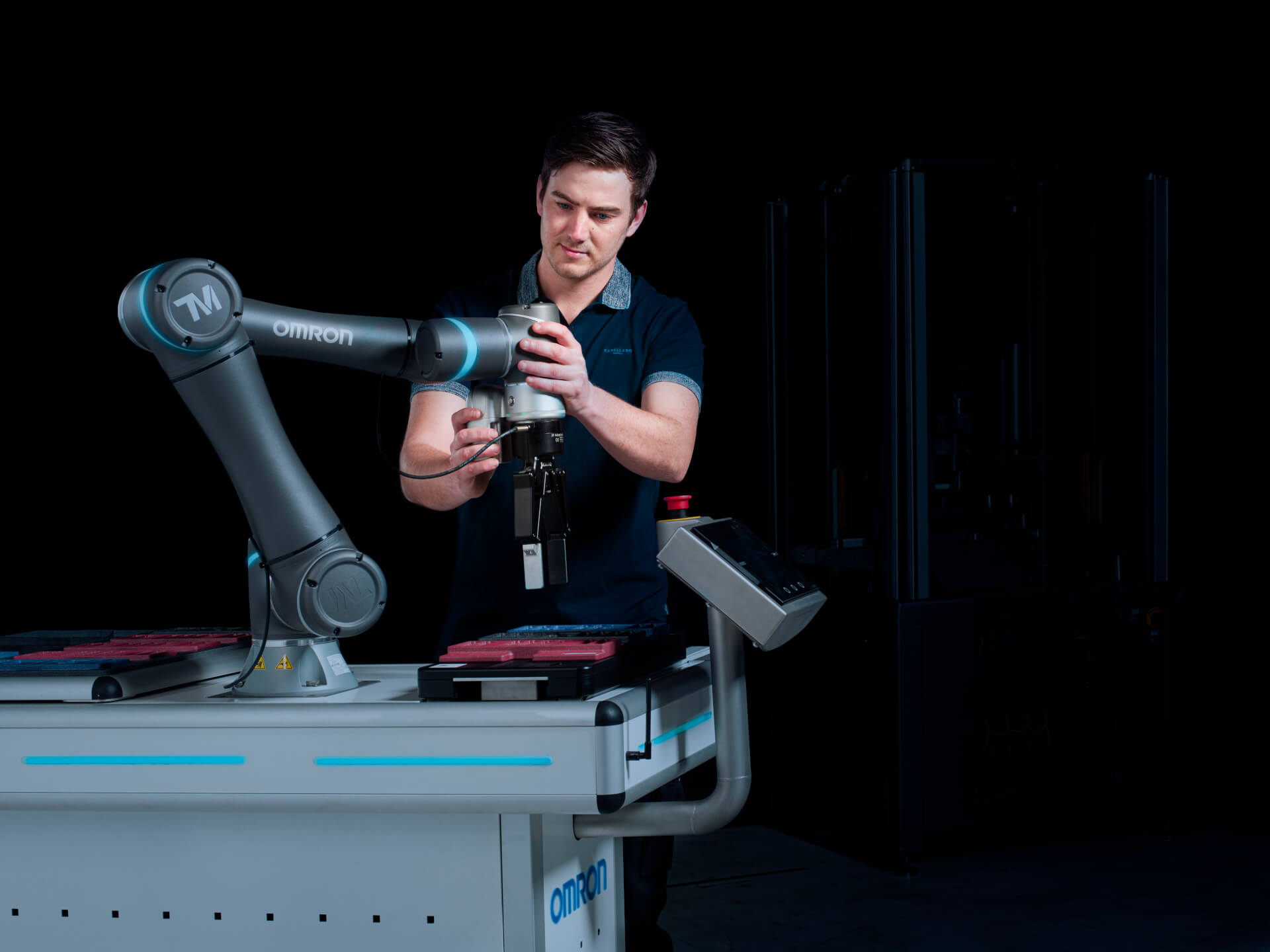 Yhteistyöroboteissa on integroituja turvallisuusominaisuuksia, joiden ansiosta ne voivat työskennellä lähellä ihmisiä ja samalla parantaa tuottavuutta erilaisissa rasittavissa ja toistuvissa tehtävissä.
Yhteistyörobotit on helppo ottaa käyttöön, ja ne mukautuvat nopeasti ja helposti uusiin tilanteisiin. Ne voivat tehdä läheistä yhteistyötä henkilöstön kanssa ja varmistaa, että ihmisillä on aikaa tehdä sitä, minkä he parhaiten osaavat – luovia ja lisäarvoa tuottavia tehtäviä.
Suunnittelimme yhteistyörobotit ISO 10218-1- ja ISO 10218-2 -turvallisuusstandardien ja teknisen ISO TS-15066 -määrityksen mukaisesti, jotta voimme määrittää vaadittavat turvallisuustoiminnot ja suorituskyvyn. Lataa yhteistyörobotteja käsittelevä raportti, joka sisältää tietoja alan standardeista, riskinarvioinneista, parhaista käytännöistä ja strategioista, joilla voit maksimoida käyttökohteesi arvon.
Riskinarviointipalvelu
Tiimimme auttaa sinua esittelemään yhteistyörobotit työpaikallesi alkaen riskinarviointipalvelusta, joka vähentää tuotantoon liittyviä mahdollisia turvallisuusriskejä. Turvallisuusinsinöörimme tarjoavat vertaansa vailla olevaa asiantuntemusta ja tunnistavat keskeiset standardit ja vaatimukset ihmisten ja koneiden väliselle vuorovaikutukselle.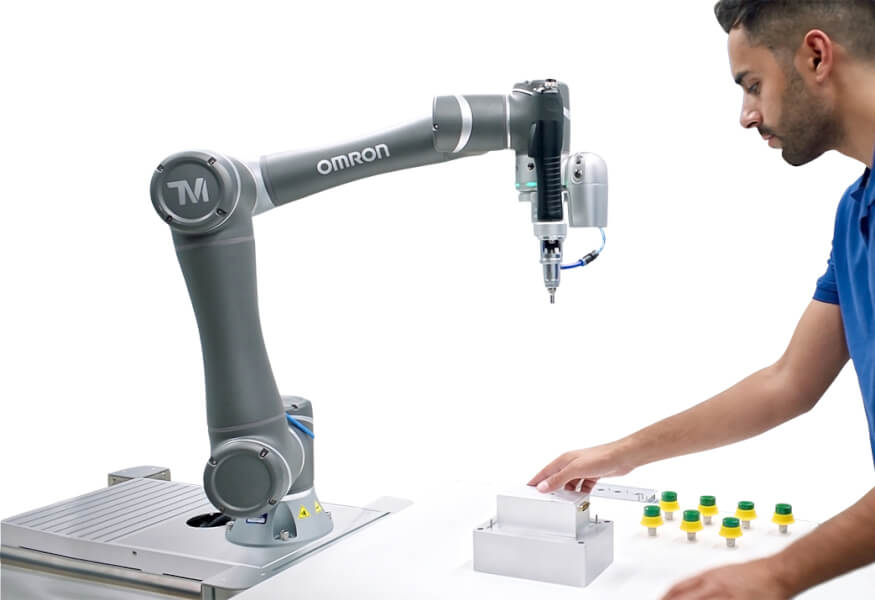 WEBINAR RECORDING
This translates into increased complexity when safely implementing these applications. Moreover, changes in safety standard requirements have arrived, and this needs to be known by integrators and end users. That's why the Omron 45-minute webinar will show you the route to answer all these changing needs.
Aika 08. heinä, 2020
1:00
Tutustu seuraavan sukupolven työtovereihin
OMRONin yhteistyörobottien valikoimassa on useita malleja, jotka tarjoavat oikean ulottuman ja hyötykuorman erilaisiin käyttökohteisiin.
Ulottuma
Hyötykuorma
Enimmäisnopeus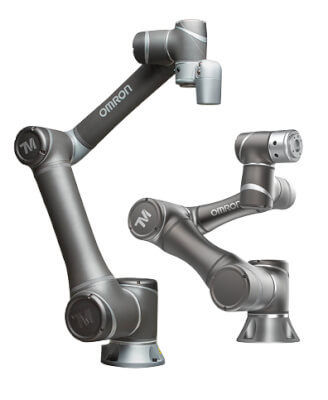 TM 5 - 700
Ulottuma

700 mm

Hyötykuorma

6 kg

Enimmäisnopeus

1,1 m/s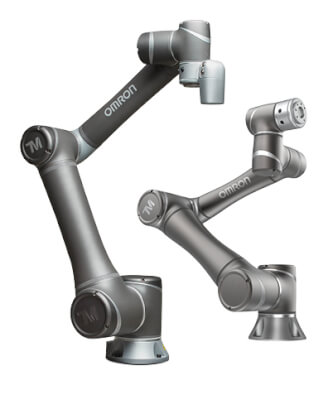 TM 5 - 900
Ulottuma

900 mm

Hyötykuorma

4 kg

Enimmäisnopeus

1,4 m/s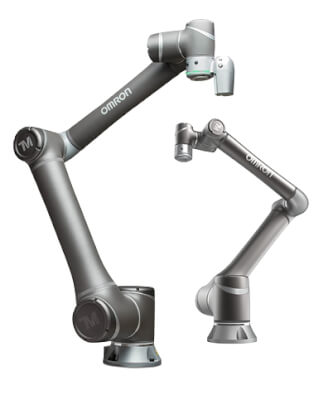 TM 12
Ulottuma

1 300 mm

Hyötykuorma

12 kg

Enimmäisnopeus

1,3 m/s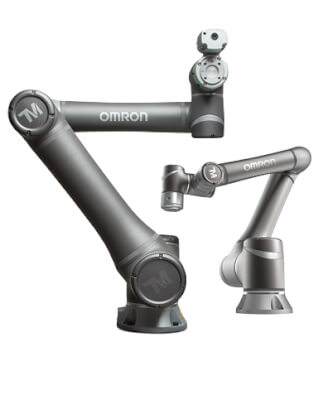 TM 14
Ulottuma

1 100 mm

Hyötykuorma

14 kg

Enimmäisnopeus

1,1 m/s
Yhteistyörobotit tarjoavat enemmän joustavuutta
Olemme suunnitelleet yhteistyörobotteja, jotka on helppo ottaa käyttöön eri tehtävissä ja kohteissa. Tee tuotannosta mahdollisimman joustavaa ja anna työntekijöidesi keskittyä siihen, minkä he osaavat parhaiten.