Meeting Europe's Growth in Demand for Robotics
Omron installs two new production lines in the Netherlands
Further growth in demand for Omron's robotics business has been the key driver to install the new production lines at our European state-of-the-art manufacturing site in Den Bosch, the Netherlands. The local production of parallel robots will enable us to focus on improved productivity, rapid response and shorter lead times.
Paul Sollewijn Gelpke, General Manager Manufacturing & Supply Chain Europe, Omron said,
"The manufacturing sector is always challenged to cut operating costs and shorten supply cycles. Production sites around the world are striving to improve productivity and increased deployment of labor-saving robots is one of the solutions. This growth in demand in our robotics business has been the key driver in installing two new production lines at our production site in Den Bosch, in the Netherlands. The production of parallel robots locally enables us to improve productivity, respond rapidly to shorter lead times and customer needs in the region."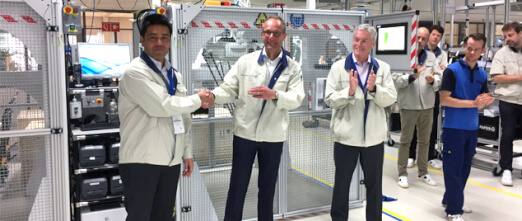 Innovation designed for the future
The development of innovative and powerful industrial robots for high-speed, precision manufacturing, packaging, and factory automation is at the core of our business.
Through our plant in Den Bosch, we are now able to offer the development of the Hornet and Quattro Series parallel robots to help machine builders and System Integrators add efficient pick-and-place capabilities to their packaging and small parts assembly line projects.
With a pick rate of 300 per minute the Quattro is the world's fastest and most flexible parallel pick and place robot. With its four arms, the Omron Quattro also offers a larger working envelope and a degree of manipulation not achievable elsewhere.
By adding robotics technology to our manufacturing site in the Netherlands, we are very well positioned to provide automotive, digital device, food and beverage and packaging manufacturers with solutions to these global challenges.
Seuraa Omron Industrial Automation -tiliä LinkedInissä