OMRON's Flexible Manufacturing Roadshow travels across Europe
Our Flexible Manufacturing Roadshow has embarked on a unique journey across Europe, featuring exclusive demonstrations of human-machine collaborative solutions not usually seen outside of a factory setting due to their size and scale.
Comprising over 600m2, the roadshow's demonstrations showcase a range of practical solutions for the factories of the future, enabling flexible and intelligent production improvements. The roadshow kicked off at OMRON's Automation Center for Autonomous Mobile Robots in Annecy, France in December, and during the first half of 2022, the tour has already travelled to Milan, Barcelona and across the Nordics, before moving on to the UK. More locations will be added to the tour later this year.
At the local events, visitors can get a first-hand experience of large-scale human-machine industrial automation solutions to address some of the key challenges affecting manufacturers, such as palletising, transportation and traceability. 
On display are OMRON's strongest fully autonomous mobile robot for heavy loads of up to 1,500 kg, as well as a variety of flexible palletising and autonomous material transportation solutions, including:
box to mobile robot top conveyors;
OMRON TM collaborative robots for palletising and de-palletising applications;
OMRON mobile robots;
MicroHAWK machine vision solutions embedded in a traceability framework.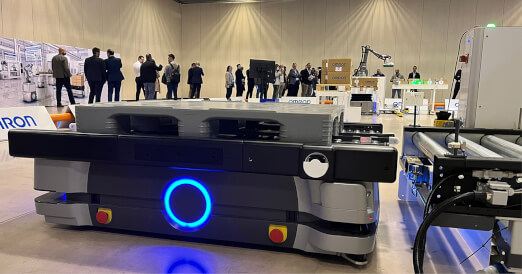 Facilitating more agile and flexible manufacturing with less reliance on manual labour, reduced energy consumption and increased OEE, OMRON's solutions are also futureproofed for the digital era. 
Each system features a combination of natural navigation and selectable autonomy navigation, IoT dashboard, built-in serialization offering full traceability along the entire manufacturing process, and of course, the company's intelligent Sysmac Control Platform.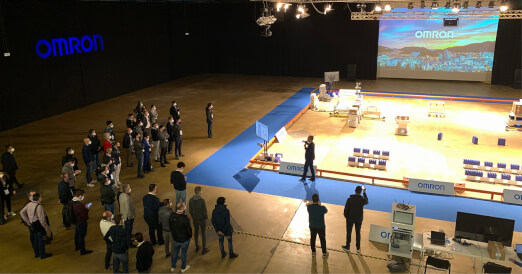 In addition to live flexible manufacturing demonstrations, the events also feature OMRON's system integrator partners, who reveal practical, real-world tips for seamlessly integrating OMRON's automated solutions into a wider production ecosystem. 
OMRON's Strategic Business Development Manager – EMEA, Eduardo De Robbio, states: "We are delighted to bring some of our most dynamic, collaborative human-machine automation solutions out of the factory and on tour around Europe for the first time ever, so that our key customers can look at and touch the flexible manufacturing systems of the future. We hope that the Roadshow will inspire today's manufacturers to reimagine what is possible on their production lines, enabling their facilities to remain agile for years to come."
Seuraa Omron Industrial Automation -tiliä LinkedInissä