Empowering the workforce: OMRON's approach to skills development in European manufacturing
Julkaistu keskiviikko 6. syyskuuta 2023: AI
Delving into OMRON's unwavering commitment to nurturing skills that empower the next generation, while the industry embarks on a transformative journey – a journey that unlocks the full potential of the Fourth Industrial Revolution (4IR) while boldly moving towards the Fifth Industrial Revolution (5IR).
In the halls of academia, the boardrooms of visionary business leaders, and the chambers of forward-thinking politicians, a fervent debate evokes. It revolves around the profound shift from the Fourth Industrial Revolution, 4IR, or Industry 4.0 as it is also known, to Industry 5.0 will change the world in which we live.
Historically the Industrial Revolution was the First Machine Age, and electricity the Second, then electronics was the Third, and the internet as platform the Fourth Machine Age. We are now entering the Fifth Machine Age, which highlights harmonious human-machine collaboration and the contributions of the industry to society. This is the moment to not only adapt but to lead, to pioneer, and to create a future where innovation knows no bounds. 
Klaus Schwab, the founder and executive chairman of the World Economic Forum has observed that: "We stand on the brink of a technological revolution that will fundamentally alter the way we live, work, and relate to one another. In its scale, scope, and complexity, the transformation will be unlike anything humankind has experienced before. 
Our world is undergoing a transformative shift. Global production is evolving, driven by the automation of traditional industrial practices through smart technology, M2M communication, and IoT integration. This synergy fuels heightened automation, seamless communication, and intelligent machines that autonomously analyse and diagnose challenges.
The rise of AI sparks debates, hinting at deeper transformations within our societal tapestry. As we navigate this dynamic landscape, we are poised to embrace innovation and reshape our future. 
The automation myth
As a result of these far-reaching changes, there's a misconception that robots, automation and AI will replace people's jobs. But the opposite is true. Many businesses are struggling to recruit enough qualified staff to help them take advantage of the opportunities that the latest technological innovations offer. This is partly due to an ageing population, many people dropping out of the workforce during the covid pandemic and traditional education models struggling to adapt to the factory of the future.
OMRON operates at the forefront of technology, developing automation, robotics and artificial intelligence. OMRON provides solutions to the main issued faced by a wide range of industries, from packaging and processing, automotive, life sciences and food and drink industries. These technologies are changing the face of manufacturing and for us recruiting, developing and retaining good people is more important than ever. Without the right colleagues with the right skills we won't be able to realise the potential of the new industrial revolution. In addition, we believe that technology will help to support people to improve their skills and achieve better performance. Technology can empower people to excel.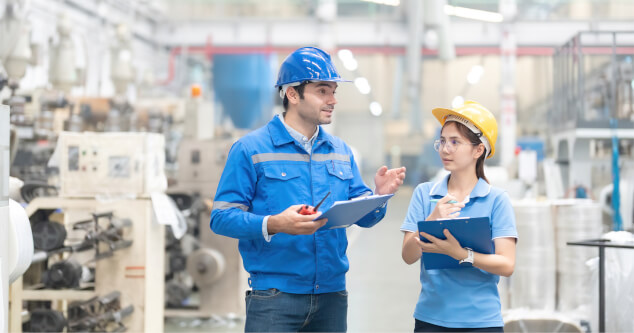 Shaping the Future 2030
In line with our "Shaping the Future 2030 (SF2030)" long-term vision launched in 2022, we are working to shape a sustainable society by continuously creating social and corporate value from the integration of business growth and sustainability. We are committed to developing automation solutions that can address issues in our society and help build the factories of the future that are clearly more sustainable, oriented to the wellbeing of workers, and flexible to quickly react to uncertainty caused by events such as pandemics, wars, and climate change.
Our mission of "Improving lives and contributing to a better society," means we place great emphasis on supporting educators to equip the next generation to face the challenges and seize the possibilities that Industry 5.0 presents. 
We have long recognised that we have to invest in the future of our people to ensure that we are creating a pool of talent to whom we can offer long-term rewarding careers. This involves collaboration with schools, colleges and universities across many of the European markets in which we operate.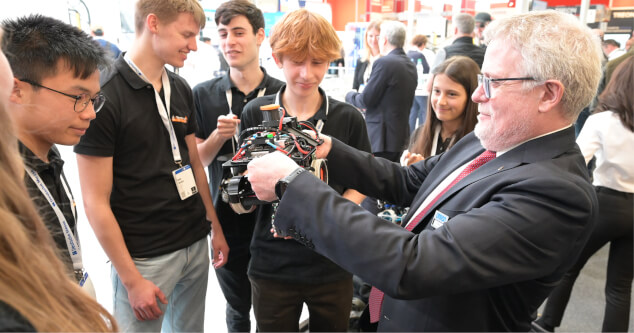 In Italy, our Educational Project spans secondary schools, Higher Technical Institutes (ITS), and universities. The Academy Project emerged from these collaborations, focusing on "schools of high technological specialization" catering to industry demand.
We engage with over 100 ITS across Italy, particularly in automation-focused Mechatronics. Collaborations with ITS institutions like Cuccovillo, Florence, and Sistema Meccanica drive comprehensive training programs.
Our University Project strengthens ties with universities and polytechnics. Partnerships with L'Aquila, Padua, Trieste, Parma, and more reflect our commitment to nurturing future talent.
In the UK, our two-year apprenticeship program offers diverse exposure, equipping recruits for multifaceted roles. In Spain, our dynamic team introduces cutting-edge tech to classrooms, fostering personalized education.
We're proud to be part of "La Alianza por la Formación Profesional," a national strategy initiative fostering effective vocational training programs through collaboration among government, companies, and third-sector groups.
At OMRON, we are shaping a future where education and collaboration empower a thriving, innovative society.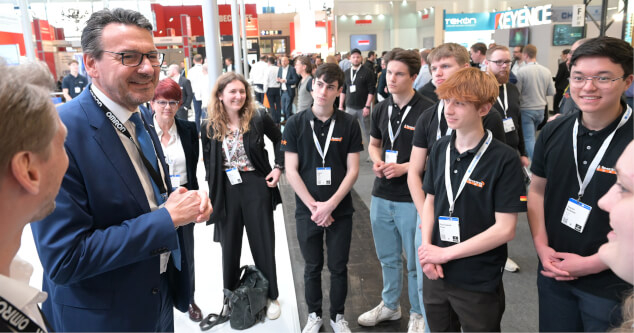 Working with our customers
As well as developing the talent of the future we also recognise the importance of our customers to our future success and so we are actively supporting them as they work to realise the latest opportunities.
So, at OMRON we have built a network of two European Automation Centres and 15 Proof of Concept labs where we work with our customers to turn automation concepts into real-life innovate applications. These hubs bridge our global and local networks, fostering innovation in manufacturing by continuously sharing innovative technologies, know-how, and technical insights. This facilitates the development of novel solutions, empowers customers to develop new solutions, and accelerates responses to business challenges.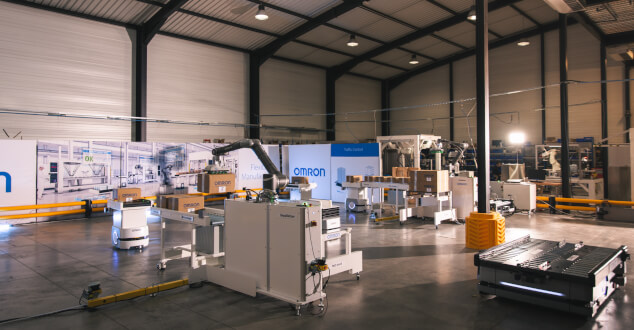 The future
The Fifth Industrial Revolution is a complex and fast-paced change that requires us to reconsider how we develop our people, create value, and live our lives. It is more than just a technological shift; it presents an opportunity to use emerging technologies to create an inclusive and human-centered future.
At OMRON we believe our Shaping the Future 2030 vision is helps our employees, communities and customer adapt to these challenges and create a better world together. It is only through collaborations with educators, customers and numerous other stakeholders that we will be able to equip colleagues with the skills they need to successfully adapt to the new future.
Contact us for more information