Collaborative robot carries out intelligent labelling on different product formats - reducing downtime due to format changes by up to 70% - in a solution developed by Bluengineering for Gruppo Romani in Italy.
The accurate labelling of packages from a production line can be a complex and labour-intensive. This is particularly true if the packages include breakable materials. Labelling is a process that lends itself to automation – in particular, through the use of collaborative robots (cobots) that can work alongside people. One organisation that has developed a solution for this process with a cobot is Bluengineering, part of Gruppo Romani SpA in Italy.
The search for a solution
Bluengineering specialises in process control in the ceramic industry. To automate the labelling process of the packages at Gruppo Romani, they opted for the OMRON TM5 cobot, which is versatile and adaptable and includes an integrated vision system.
The company needed to be able to apply labels on one of the four sides of outgoing packages, and to manage format changes quickly, without the need for any complex tooling operations. The OMRON cobot was ideal, as it has a reach of 700 mm and can be taught how to handle packages of different sizes and shapes in just a few minutes. The operator can manually define the cobot's gripping, movement and deposit points.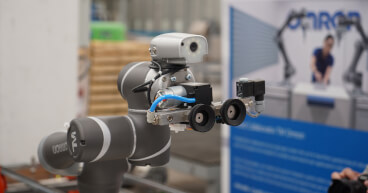 The cobot carries out most of the repetitive operations involved in labelling, leaving workers free to focus on activities that provide greater added value. The collaborative nature of the machine means that the cobot can work safely in the presence of factory employees. This is possible thanks to its integrated monitoring features, which dynamically constrain the force and pressure exerted within the vicinity of the operator. The cobot can be programmed to stop or to evaluate all possible interactions that might limit its actions. This ensures that any accidental contact with people won't endanger them at all.
Quick and versatile labelling
The OMRON cobot's integrated vision system enables it to read the bar codes or QR codes on a label; to control the correct positioning of the package, and to track and verify the packages. All of the data is sent to and managed centrally by an OMRON NX102 programmable logic controller (PLC), which is connected to the manufacturing execution system (MES). This provides integrated supervision of the entire production cycle in real time. From the terminal, the operator can see the status of production; the batches in transit; and the number, speed and method of labels to be printed and applied.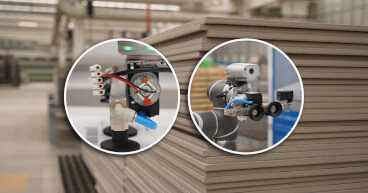 The cobot has provided a more continuous and more efficient solution for labelling operations. In particular, it provides a very quick and versatile method of dealing with different product formats. And this leads to other tangible benefits: cobots can reduce any downtime due to format changes by up to 70% compared with a traditional mechanical axis system. This is all achieved whilst maintaining an emphasis on the maximum safety of nearby personnel.

Read more about our collaborative robots