The market is demanding easy to install and configure palletizing solutions:
installation in only a couple of hours
easy layer configuration, without any need for complicated robot programming
Together with our partners we realize smart and efficient EOL-palletizing solutions.
Our Solution: Easy Palletizing with Collaborative Robots
Our all-in-one solution for Cobot palletizing automation includes built-in guiding software that assists users to set up their palletizing specifications quickly.
The Pallet Node can be utilized in a variety of ways such as assembly, loading and unloading, machine tending and of course palletizing. Once you drag it into your sequence a popup will automatically appear on the screen and guide you through the set-up of the pallet feature.
The pallet is easily created. You can monitor which row, column and height is connected to the pallet movement position.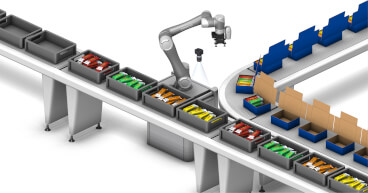 Opi lisää yhteistyöroboteista ja niiden käyttökohdeista.
No future dates
VERKKOSEMINAARI
READ MORE
Benefits Flexible Palletizing
Easy palletizing with collaborative robots:
Compact 
Quick to install 
Easy to configure 
Reduces the footprint by over 50% compared to industrial robots
A fence system or cage is not needed, and operators can safely work side-by-side with the robot. The solution permits continuous operations. The operator can easily remove one complete pallet without stopping the collaborative robot.
See the Solution in Action
OMRON and Reeco introduce the RB1200 Cobot Palletiser
OMRON UK and Reeco have taken collaborative robotics innovation to the next level with the development of the RB1200 cobot palletiser that costs up to 50% less and has a 60% smaller footprint than a conventional robot palletiser. These game-changing metrics have a radical impact on project payback, making end-of-line robotic automation economically attractive to producers of all sizes for the first time. Read more:
Collaborative palletizer designed for industrial applications from FlexLink and OMRON
Enabling the autonomous and collaborative factory, Flexlink and OMRON have developed a cobot palletizer solution to meet the needs of major FMCG manufacturers across the world. The solution frees operators from repetitive and strenuous tasks, while working safely side by side with people. Contact us for more information:
Find Out what Our Customers Say
Curious how your industry peers regard OMRON? Please consult our customer references!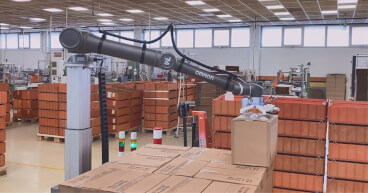 OMRON and Reitec join forces to create the new RC-1 cobot palletiser solution
Read more
See also our other Key Applications & Solutions