MicroHAWK V/F Series
MicroHAWK platform: one camera for all barcode reading and inspection tasks
By combining barcode reading and inspection tasks into a single device, the MicroHAWK platform offers manufacturers greater flexibility in production line layouts, cuts hardware related cost and dramatically reduces wiring and maintenance work.
Why use multiple devices when a single camera can do it all?
Addressing the challenge of reliably reading a variety of barcodes on different surfaces at high speeds in difficult factory environments, MicroHAWK barcode readers and smart cameras use powerful X-Mode algorithms to render damaged and incomplete symbols readable. For reliable decoding at the speed you need, they come standard with speeds up to 60 frames per second.
With the intuitive and easy to use AutoVISION software, the MicroHAWK F series smart cameras have the right tools for addressing machine vision inspection tasks such as part location, part presence, counting, colour detection and dimensional measurement. With Omron's powerful X-Mode decoding algorithms, IntelliText OCR and Code quality verification, the MicroHAWK smart camera functions can be combined with data capture functionality for traceability.
Design your next-level solution for traceability, quality control or vision inspection with a technology that combines advanced optics with monochrome and color image sensors of up to a 5MP resolution and a variety of fixed-focus and autofocus lens options.
Intuitive and simple to use
Setup your application quickly and with minimal training
Connects via LAN
MicroHAWK barcode readers and smart cameras lead the industry for effortless setup and installation. Simply connect the MicroHAWK to power and to your PC, laptop, or tablet via USB, Ethernet, or serially, and configure your application. Providing the most intuitive controls of any barcode reading setup tool, WebLink ushers in the age of usability to this essential task.
WebLink Browser Based Interface
World's first web-based barcode reader interface No software to download or install Compatible with any MicroHAWK reader One-click symbol training and optimization tools Automatic image storage from camera to external server
WebMonitor Browser Based HMI (F series)
Each MicroHAWK F series smart camera comes with a built in, fully customizable web HMI that can be used to create custom visualizations and camera controls for manipulating setpoints or selecting inspection recipes
AutoVISION machine vision software (F series)
With AutoVISION, even users with little or no machine vision expertise can quickly setup common inspection applications such as part location, assembly verification or dimension checks. Creating an inspection is as simple as selecting the right tools into the captured image, selecting the pass/fail criteria and sending the job to the camera for execution. The clear and intuitive user interface is easy to master by anyone and supports up to 23 powerful machine vision tools. With the optional Visionscape software, the MicroHAWK F series vision sensors can be upgraded to a capability level traditionally reserved to more expensive and complex smart cameras.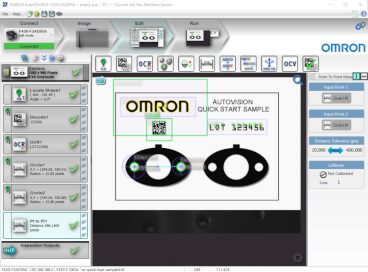 Integrates easily with a compact footprint
Supporting a variety of industrial communication protocols and onboard I/O, MicroHAWK allows you to securely and efficiently integrate your data with factory automation applications. The platform interfaces easily with Omron's control hardware and also integrates with devices supporting EtherNet TCP/IP, EtherNet/IP and PROFINET. Designed specifically for integration into the tightest of spaces, MicroHAWK barcode readers are the most compact, lightweight and durable devices for tough industrial environments. In fact, the V430 is the smallest IP65/67-rated barcode reader available on the market today.
With MS-Link, the MicroHAWK F series smart cameras provide access to inspection results and parameters for PLC and HMI with a single mouse click and independent of the industrial protocol used.
Key Technology Features
Omron's X-Mode algorithms are powerful enough to read any code on any surface, including curved, shiny or otherwise textured materials. This minimizes downtime and delays from no-reads and keeps production moving smoothly. Combined with the liquid lens autofocus technology,  the V4x0-F readers will read any code in seconds after connecting with no prior setup.
X-mode decoding algorithms
High-speed liquid lens auto-focus
Daisy chain networking
Onboard configuration database
Barcode quality monitoring
With AutoVISION, the MicroHAWK F series offers more machine vision tools than any vision sensor in it's class, ensuring that the right tool can be used for any job. With it's ease of use, AutoVISION makes setting up machine vision inspection tasks easy for novice users, while saving time and effort for more seasoned users.
Auto-VISION sensor license for locate, part presence, measurements and colour detection applications 
Full AutoVISION license for additional X-Mode code reading, trainable font OCR and code quality inspection capabilities 
Visionscape license for additional complex smart camera capabilities that include .NET integration 
Built in WebMonitor HMI 
MS-Link connectivity for one click interfacing of data to HMI and PLC 
Built in emulator for inspection testing and development without a MicroHAWK camera
Platform capabilities:
High-speed liquid lens auto-focus 
0.3MP economy low resolution sensor 
1.2MP high speed, high sensitivity sensor 
5.0MP colour sensor for static applications 
Red, white and ring light illumination options Modular platform for built to order OEM & fixed focus configuration 
A wide range of standard models to address most applications 
ProfiNET, Ethernet IP, TCP/IP, Serial and USB interface options
V/F 300 series for embedded applications
MicroHAWK offers a wide range of hardware options to meet any industrial need, solving the toughest barcode reading and inspection challenges.
Automotive
Powertrain components
Safety systems
Steering and braking
Labeling
Electronic assemblies
Electronics
Component and PCB traceability
Sub-assembly tracking
Automated line changeover
Quality assurance
WIP tracking
Life Sciences
Sample tracking
Medical device tracking
Test level traceability
Vial reading and verification
Packaging
Match inserts to packaging
Item traceability
Quality assurance
Anti-counterfeiting measures
Package sortation
Carton coding
Print and apply
Integrated
Omron's commitment to easy integration is evident in the MicroHAWK platform's seamless interface with our control hardware and third-party devices supporting EtherNet TCP/ IP, EtherNet/IP and PROFINET.
Intelligent
Powerful decoding algorithms, thorough barcode quality monitoring, advanced password management and other key features make this smart solution stand out in the crowd of today's automation technologies.
Interactive
Using the highly intuitive browser based WebLink interface you are able to quickly configure and monitor your MicroHAWK reader, instantly seeing the result of configuration settings.